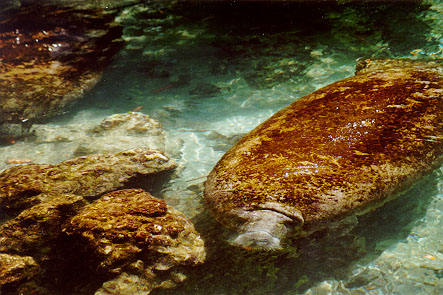 It looks like a massive, round, algae-covered rock in the middle of a calm, clear river. Suddenly, the rock starts to move, gliding slowly through the crystal blue water until two flaring nostrils break the surface. The one-ton Florida manatee dwarfs your kayak but greets you with an inquisitive eye.
West central Florida is native habitat for manatees, which warm their mammalian flesh in the tepid springs of the Crystal and Homosassa Rivers during winter and ply the waterways or head for the open ocean during the rest of the year. For years, locals and tourists alike have been gathering around the springs trying to get a glimpse of these gentle creatures. Now, Susan Davis, an eco-entrepreneur who leads paddling tours throughout the region, has a better way for people to interact with the increasingly rare manatee. Davis helped map out the nascent Nature Coast Canoe & Kayak Trail, located in Citrus County, Florida--just 90 minutes north of Tampa.
Water trails are becoming increasingly popular, according to North American Water Trails, a recently formed coalition of organizations and citizens committed to creating what they call "Ribbons of Discovery" across North America. "So many people go from car to house to job to store and totally lose contact with nature," Davis laments. "But for people who want to save the environment, they have to be able to see and experience it." Marked water trails are an excellent way to do this.
Florida's so-called Nature Coast is home to all manner of wildlife--including river otters, alligators, dolphins, sea turtles, manatees and more than a hundred species of birds--as well as several wildlife preserves and refuges (46 percent of Citrus County's land lies in federal, state or county parks and preserves). The Canoe and Kayak trail now travels nearly 25 miles through 60,000 acres of preserve that's accessible by water only. "It offers a true wilderness experience," says Davis. "And depending on what kayak you're using, the manatees are bigger than your boat, which is thrilling!"
The trail began as a local teenager's Eagle Scout project in 1998. Ian Maidoff needed to do a service project, and Citrus County was eager for more environmentally sensitive ecotourism. Maidoff contacted the county's Ecotourism Committee, on which Davis now serves, and requested help mapping the trail and getting funds. The project was a success, and Maidoff installed trail signs in early 1999.
The initial leg of the trail followed the 13.5 mile length of the Salt River, part of St. Martin's Marsh Aquatic Preserve, a water-access-only refuge for coastal wildlife. The Salt River runs due west of Crystal River National Wildlife Refuge. This refuge was created specifically to provide and protect manatee habitat, because in winter 20 percent of the Florida manatee population congregates en masse at the river's headwaters, King's Spring. Manatees typically spend summer in the Gulf of Mexico and the Atlantic Ocean, but a growing number have taken to staying in the rivers year-round. In the fall and spring, manatees migrate along the region's interconnecting waterways, including the Salt River.
Although manatees seem plentiful in these waters, they are a federally endangered species that struggles to survive amidst speeding motorboats and declining habitat quality. Florida waters were officially dubbed a sanctuary for the manatees in 1978, and populations have slowly rebounded, but death stats continue to rise. Despite strict speed limits throughout their habitat, manatees are frequently killed or maimed by boaters who ignore the speed limit. Propeller injuries are so common that scientists use the scars to tell manatees apart.
Eager to expand the publics' access to the waterways, last year Davis decided to extend the trail another 12 miles down the Homosassa River and its tributaries. The north-south running Salt River dead-ends into the east-west running Homosassa. After a year of planning and mapping out the route, this second leg opens on April 21 and will be christened with the first-ever Swamp Stomp and Paddle Biathlon, a 12K run followed by a 5K canoe and kayak race along part of the trail. The event served as a de facto grand opening for the entire route.
The second leg travels around historic Tigertail Island, an ancient Indian mound. "Seminoles and other Native American cultures ate shellfish from the rivers," Davis explains, "and they created huge mounds of discarded shells." Relics of these mounds remain on the island, which was named after a Seminole chief.
When crossing the Homosassa, paddlers may spot an occasional house, but the trail continues into aquatic wilderness. The rivers in this leg of the trail are rockier, with jagged limestone outcroppings lining the banks. The trail ends at the Chassahowitzka River in the Chassahowitzka National Wildlife Refuge. The Chaz, as locals call it, is home to manatees (which nurse their calves here) and soon another endangered species. The international Whooping Crane Recovery Team has plans to reintroduce a flock to the refuge this fall. These majestic white birds with a red cap wade in the tall salt grass of the coastal marshes feeding on blue crabs and other local fare.
Davis hopes to extend the Nature Coast Trail even further, and neighboring counties have already expressed an interest in creating conjoining routes. "In the not too distant future, I can see [a system of] connecting trails throughout the state of Florida," Davis says. And, if North American Water Trails has anything to say about it, perhaps throughout North America.
DOIN' IT RIGHT:
Planning: Contact the Citrus County Tourist Development Council for further information, (800) 587-6667. The Council offers a free 30-page vacation guide with lodging, campgrounds, activities and maps. The Audubon Society's Field Guide to Florida has great color photos and information about Florida wildlife, vegetation, habitats and even the night-time sky.
Getting There: To put in at the north end of the water trail (near Crystal River), take US 19 to Highway 44 (Fort Island Trail) and head west until it dead-ends into Fort Island County Park. To put in at the south end of the water trail (near Chassahowitzka), take US 19 to Miss Maggy Drive, head west until it dead-ends into the county boat ramp adjacent to Chassahowitzka State Campground.
Being There: There's plenty of wildlife to see year-round in Citrus County. To rent canoes or kayaks or get trail maps, contact the Homosassa Kayak & Canoe Outpost at (800) 442-2040 ext. 265, or email: mailto:%20info@manateetours.com. The Chassahowitzka River Campground also rents canoes at the south end of the trail, (352) 382-2200. Low impact campsites are available along the trail, but you have to portage out waste. Traditional lodging options abound in the towns of Homosassa and Crystal River.
X Factor: Bring a disposable underwater camera!
Gear: Dry-bag for gear, camera and film, canoe or kayak, quick-dry nylon pants and water shoes, sunscreen and shades.